This is a quick and informative overview of the new Twisted Tools MSMAX Reaktor ensemble, which...
Introduction to Twisted Tools MSMAX Reaktor Ensemble
»

»
This is a quick and informative overview of the new Twisted Tools MSMAX Reaktor ensemble, which puts some serious power in your hands!
The naming of the new Twisted Tools MSMAX Reaktor ensemble is a bit of a giveaway, as it is largely focused on Mid/Side and Maximizer processing capabilities. This is one of those tools that can quickly change your sounds to be more immersive and impressive with the twist of a few knobs. For those of you who are already familiar with different compression, mixing and mastering techniques the ideas behind this ensemble are easily understood and will probably be a welcome addition to your arsenal. For those who are not too familiar with these things, we'll break them down a bit for you as well as share some of the features you can expect to see in Twisted Tool MSMAX.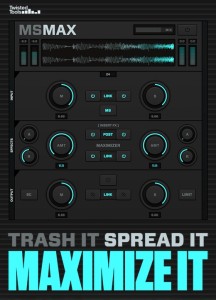 First let's take a look at some features of Twisted Tool MSMAX. It is one part stereo maximizer, one part mid/side processing matrix and one part effects processor with plenty of bells and whistles in between. It offers very low CPU usage, yet still packs a serious punch. It allows you to use your own effects, both pre and post maximizer, and technology that makes switching between settings absolutely fluid–perfect for studio recording and liver performances alike! And it also boasts built-in solutions for things like latency compensation and volume ducking triggered by a sidechain signal. So it really is a well thought out Reaktor ensemble and has more uses than we can outline in any one post here.
As for how it all happens, let's take a quick look at how a maximizer works. A maximizer is basically a compressor that is focused on bringing the lesser heard elements of a sound in-line with the loudest, usually using the 0db mark as the meeting point (unless otherwise specified). This means that the loudest elements (above a certain threshold) are reduced in volume, while the quietest elements are increased in volume. In other words it makes stuff louder. But this is only half of the magic, so let's explain what mid/side is as well.
Basically you can think of it like this. There is mono, stereo and mid/side. The first two are pretty easy to understand, but how to easily explain mid/side is a bit more involved. I like to tell all of my students that if you look at the classic stereo symbol (the overlapping circles), you are basically seeing the visual representation for mid/side as well. The point at which the circles (left and right channels) overlap is the mid, while the remaining portions of the circles are called the sides. As you can imagine, working with your audio with this understanding allows you to then focus your processing efforts to create much wider, deeper and (usually) louder masters. For many types of music, it is a preferred sound. Please keep in mind that this is a simplified explanation, that is meant to get the basic idea across without creating too many more questions along the way.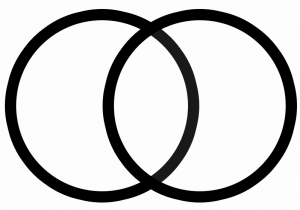 The new Twisted Tools MSMAX Reaktor ensemble has brought together a few things that are very popular in today's music production and performance scenes. And it'll make for a great addition for anyone who picks it up!