I recently re-discovered the ANALOGEEKS Reaktor Ensemble from Sign Industry, and this quick...
Introduction to ANALOGEEKS Reaktor Ensemble
»

»
I recently re-discovered the ANALOGEEKS Reaktor Ensemble from Sign Industry, and this quick tutorial is a nice introduction to the synth, it's interface and functionality.
I realize that there is an incredibly wide range of users in the Reaktor community, from enthusiasts and hobbiests to producers and hardcore programmers. We are lucky to be seeing a nice influx of new young-minded individuals who want to bring a new level of sound design into modern music production. In celebration of this I decided to put together a quick tutorial on how to design a wobble bass inside of the ANALOGEEKS Reaktor ensemble. Not because I loves wobbles, but because they are in demand and it can help showcase how sound design and modulation assignments work in a new synth. In future installments I look forward to sharing some very creative and downright experimental creations with all of you, as this synth is capable of doing so much more!
Only one image is needed to share all of the settings in this lesson, as the ANALOGEEKS Reaktor ensemble is fairly simple to use and navigate and we will only be using the basic features in this example. We start this one off by setting up the oscillators. You have the ability to use two oscillator, each loaded with 1-3 simple waveforms (Sine, Sawtooth and Square). You can Detune, vary the Depth and adjust the Mix of the two oscillators to find the right balance for your sound. In this case, since we are making a bass synth, OSC1 is dropped a couple octaves and OSC2 is dropped one octave. The Mix is slightly biased towards OSC1. This sound is then passed through a Lowpass Filter, with a fair amount of Resonance. The Filter is being modulated by Envelope 2 and an LFO. The LFO is running a Sine wave and has a good amount of Delay on it so the wobble build-up happens over time. The LFO and Envelope 2 are also modulating both main oscillators for added effect. And that is all it takes to make a nice wobble bass in the ANALOGEEKS Reaktor Ensemble. Next time we will look at some advanced features, like the sequencers, EQ and Super LFO and make something unique!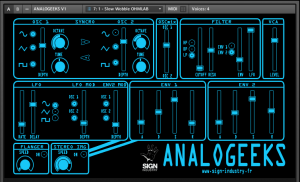 You can find the ANALOGEEKS Reaktor Ensemble here.
Join The Conversation!
Want to ask a question about this tutorial or perhaps you have something to add to it? Click through to our forum post about this tutorial and join the conversation!
Thanks for stopping by!
Cheers,
OhmLab