Something as simple as launching Maschine in either 32-bit or 64-bit mode should be pretty...
Launching Maschine in 32 and 64-Bit Modes
»

»
Something as simple as launching Maschine in either 32-bit or 64-bit mode should be pretty simple. Right? Well…this quick tutorial shows you how to do it in a few steps.
What mode Maschine launches in by default on your computer is largely dependent upon your platform and operating system. If you are running a relatively recent operating system, then you probably have the 64-bit mode. But this doesn't mean that you can't run it in 32-bit mode if you really wanted to. The same is true for older operating systems that launch programs in 32-bit mode but allow for 64-bit mode support. So what the heck is the difference?! Good question. Running Maschine in 32-bit mode means that it can use up-to 4GB of RAM. Running in 64-bit mode, however, means that it can use up to…wait for it…16 exabytes! That's way more RAM than we can fit into common computers right now so no need to worry about what comes after 64-bit.
If you are on a Mac you can set the default mode for Maschine a few different ways (of course, because it's a Mac). The quickest way is to either hold down the 3 and 2 keys while booting for 32-bit mode, or the 6 and 4 keys to launch in 64-bit mode. For a more permanent approach you may also find the actual program on your computer (in the Applications folder, most likely) and either right-click or command-click and then select Get Info from the resulting pop-up window or press command-i on the file itself and the same window will appear. As you can see in the image below, all you need to do is check the box (64-bit on older OS or 32-bit on Newer OS) if you want Maschine to launch in that mode from now on. You can change this setting at any time.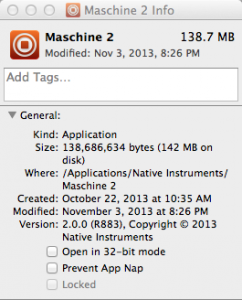 If you are on a Windows PC you need to actually launch either the 32-bit or 64-bit version. Both versions of Maschine are installed separately on your computer. You need to navigate to the desired version via the Start menu, so creating a shortcut on your desktop may be the best option for you so there is no need to go looking for it every time you want to launch it.
So if you have more than 4GB of RAM in your computer you will probably benefit form running Maschine in 64-bit mode. Otherwise 32-bit mode is going to work just fine for you.
That wraps up this quick and easy Maschine tutorial. If you have a quick question about Maschine, please let us know by sending us a message before you leave the site today. We are always happy to help. Thanks for stopping by!