Sounds like this dark FM8 cinematic pad are not just for film scoring anymore. Not with so many...
Making a Dark FM8 Cinematic Pad
»

»
Sounds like this dark FM8 cinematic pad are not just for film scoring anymore. Not with so many popular and emerging music genres that embrace these dramatic hybrid instruments.
Often times I am tasked with creating some pretty crazy hybrid instruments for film, television, gaming, etc. I have picked up a few secrets along the way and thought it would be nice to share one of them today in this FM8 cinematic pad tutorial. The idea is simple enough. Add subtle rhythmic touches to a complex and evolving pad to add interest and generate more intrigue. But it doesn't just work with enhancing a mood that is already set with intense visuals, it can also help elevate musical projects to a new level as well. This quick lesson will shed some light on one simple way to accomplish this!
To begin our FM8 cinematic pad, we first must set up the FM Matrix. As you can see in the image below, it is a complex looking arrangement with all of the routing in place. But it's quite simple, really. Operators E and F are going to be producing the rhythmic elements for us, while Operators A-D are generating the tones that will be layered into a slowly building pad. With these two idea juxtaposed in the right way, you can end up with something truly brilliant. Feeding the rhythmic pattern into the Filter (Operator Z), which in turn sends it out to the supporting pad operators, is a nice way to further embed it into the overall sound and help gel things together. And this approach can be used again and again successfully as long as you keep experimenting with different waveform combinations. It's all about making it interesting and trying to base the different elements on real world instruments to help ensure that the instrument will work well with other traditional sounds in a mix. Like classical cinematic percussion, for instance.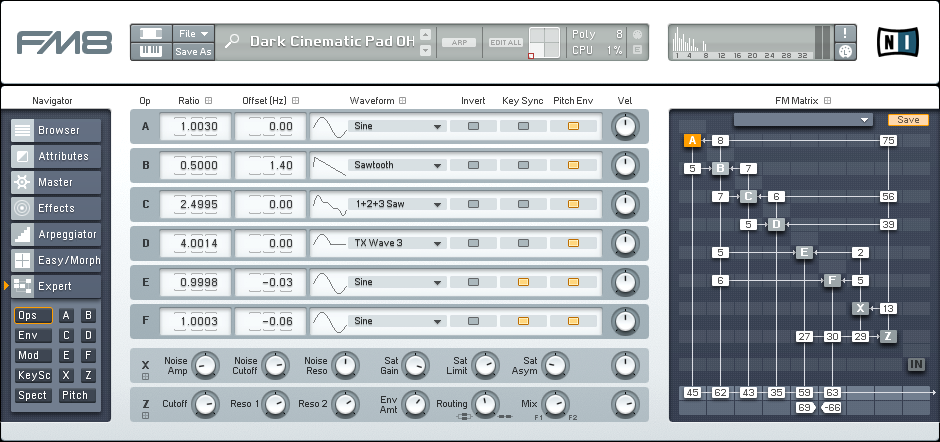 Here you can see that the operator envelopes are largely responsible for the shaping and delivery of our FM8 cinematic pad. The pad elements are developing at different rates to keep it interesting and add a touch of tension. This will help the pad work better with dissonant chords that are widely used in darker projects and tension-filled moments. The rhythmic or percussive sounds are separated and panned to add more depth and motion.

Here on the Master window the total number of Unison Voices is increased to four and the synth is Detuned and Panned to add even more width and depth to our dark FM8 cinematic pad. A fair amount of Analog Quality is also added for extra character.

The last big step in the process is to add some touches in the Effects window. First, an Overdrive unit is added to give it a little extra power. Then a Shelving EQ and a Peak EQ are used to accent and attenuate the different frequencies need to make this synth more in line with what we need. A Phaser effect is added to add more movement and modulation over time. And the Reverb is simply there to add a touch more space for the sound to develop in.
Below is a small audio sample of this dark FM8 cinematic pad in action. No processing outside of FM8 has been added. You may notice characteristics similar to stringed instruments in one moment and choir-like elements the next. It is a flexible synth that can easily be tweaked to meet the needs of a wide range of project types.
[audio:https://www.fm8tutorials.com/wp-content/uploads/2013/02/Dark-FM8-Cinematic-Pad.mp3|titles=Dark FM8 Cinematic Pad]
Join The Conversation!
Want to ask a question about this tutorial or perhaps you have something to add to it? Click through to our forum post about this tutorial and join the conversation!
Thanks for stopping by!
Cheers,
OhmLab