If you need a nice synth for a meditative or atmospheric project, this beautiful FM8 choir pad...
How to Make a Gentle FM8 Choir Pad Synth
»

»
If you need a nice synth for a meditative or atmospheric project, this beautiful FM8 choir pad may just be the one for you! This quick tutorial walks you through the steps of making it.
I set out to make a simple meditation pad, but wanted to incorporate some gentle formants and chorus to get a human element working in it. What I ended up with is something that can be used just as easily in cinematic projects as your daily yoga routine. Flexible and very accepting of processing, it even does well with different types of distortion and saturation to create an edgier synth for more broad range use. Think of this FM8 choir pad as something of a hybrid instrument. You can easily accentuate or attenuate the characteristics you need to to make it fit your work.
It starts out with the FM Matrix where all of the routing happens. As you can see in the image below, this FM8 choir pad uses all of the main operators. Some small amounts of modulation are introduced to help emphasize some of the harmonics. The variations in pitch values and waveforms help to create a complex and layered sound that is made even wider by panning the operators in opposite directions.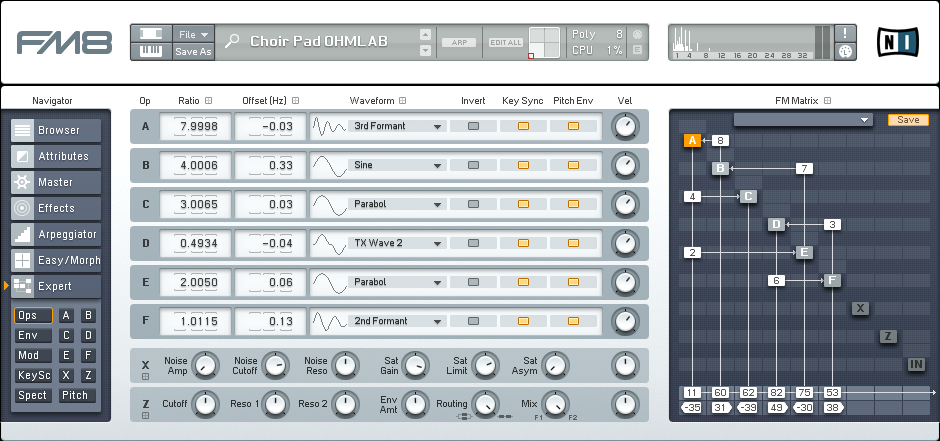 All of the envelopes have been kept identical to help keep this tutorial easy to follow along with. If you would like to make a more interesting version of this FM8 choir pad, you may want to start experimenting with different envelopes curves that change how the sound develops over time. Staggering different deliveries for each sound can bring even more depth and character to the sound. Just be sure to start with small, subtle changes.

The next stop is the Master window where the number of voices is set to four, which allows for the Detune and Pan features to be used. These both help to spread the sound out even more and add depth and richness to our FM8 choir pad. Some Analog Quality is also added for character.

And finally the Effects window is set up. Here a Shelving EQ is used to boost the low and high end a bit. The Tremolo and Chorus/Delay units add movement to this FM8 choir pad as it develops. And the Reverb effect gives it some more room to move around in.

Below is a small audio sample of this FM8 choir pad in action. No processing of any kind has been applied outside of FM8.
[audio:https://www.fm8tutorials.com/wp-content/uploads/2013/01/FM8-Choir-Pad.mp3|titles=FM8 Choir Pad]
Join The Conversation!
Want to ask a question about this tutorial or perhaps you have something to add to it? Click through to our forum post about this tutorial and join the conversation!
Thanks for stopping by!
Cheers,
OhmLab