This is a really cool sound that is so easy to continually transform into new sounds and even...
How to Design a Spacey FM8 Dream Pad
»

»
This is a really cool sound that is so easy to continually transform into new sounds and even morph with other sounds, and this lesson will show you how to make your own FM8 dream pad.
I'm sure I've mentioned plenty of times just how much I love using FM8 in my sound design sessions. I was recently commissioned to make some retro space-aged sounds from the future and I thought I would share some of the tricks I use when approaching this type of job. Of course, I chose to use FM8 for this task because of the types of sounds that come so easily to FM Synthesis. This FM8 dream pad is very spacey and has all the famous qualities of what people a couple of generations ago thought represented the future of space exploration and high science that would be an every-day part of life in the year 2013.
It starts out in the FM Matrix. Here the various Operators and Modulators are routed to achieve the core of our FM8 dream pad. There a few important things to take note of here. First, all of the Operators are running in Key Sync mode except for Operator B. Both Operators D and F are panned to the right, while Operators C and E are panned to the right. They are only panned partially because the intent is to create a wider sound, not a sound that has completely different sounds on each side of the stereo field. C Modulates F and D Modulates E, so crossing the panning assignments makes a lot of sense for this type of sound design. Operator B is providing some low end atmosphere and is routed both directly to the main output strip as well as to Operator X (Noise/Saturation), which in turn is routed into Operator Z (Filter).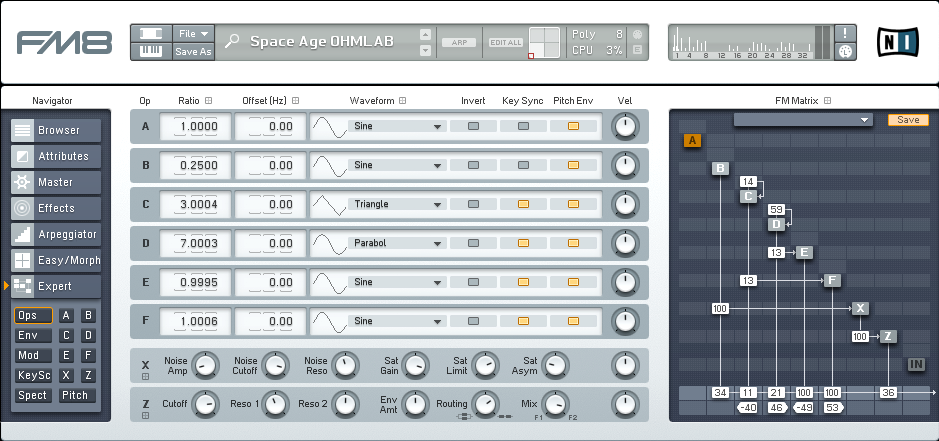 The next step in designing this FM8 dream pad is to set up our Operator Envelopes. As you can see in the image below, the envelopes for Operators B, X and Z are all very simple with a small extension made to the release parameter. Operators E and F are identical, with a short pluck curve. And Operators C and D are set up with a short repeating pulse-like blip pattern. These all combine to entirely change the way the sound is delivered and develops over time. But it is nowhere near what we need yet!
On the Master window the synth is set to run in Mono mode and the total number of Unison Voices is increased to three. The Detune and Pan parameters are both turned up significantly to make our sound even wider and more interesting. The Analog and Digital Quality parameters are also turned up some to help add richness and character to this FM8 dream pad.

I also set up an LFO and assigned it to modulate the Cutoff of the Filter (Operator Z).

Now to set up the Effects window. This is where our FM8 dream pad really comes to life! First, a touch of Overdrive (optional) is used to add a bit of grit and drive. Then a Shelving EQ is used to remove much of the low end and boost some of the high end of the frequency spectrum. A Phaser (optional) is used to give the sound a slight movement and a fair bit of character. The Reverb is used to provide the sound with more space to develop in and is a critical piece of making it work as both a pad and an FX (explained more below). The Psyche/Delay is used to extend the sound as well and provide more movement. The Delay, reverb and longer Release times in the envelopes allow this synth to be used as a hypnotic pad and sharp, yet dreamy, FX and something in between that can work well in music production for cinematic scoring, gaming, ambient and dub genres, etc.
Below is a short audio example of this FM8 dream pad in action. You can hear it being used as a pluck, a sustained pad with overlapping notes and without. No outside processing of any kind has been used.
[audio:https://www.fm8tutorials.com/wp-content/uploads/2013/02/FM8-Retro-Future-Pad.mp3|titles=FM8 Retro Future Pad]
Join The Conversation!
Want to ask a question about this tutorial or perhaps you have something to add to it? Click through to our forum post about this tutorial and join the conversation!
Thanks for stopping by!
Cheers,
OhmLab