This quick tutorial shares how simple it is to emulate the classic sound of old school analog...
Emulating a Simple Old School Analog Bass Synth with FM8
»

»
This quick tutorial shares how simple it is to emulate the classic sound of old school analog bass synths with FM8!
I think that the most important thing to remain aware of, and to make a point of emphasis in your approach to this type of sound design, is simplicity. Remember that many old school analog sounds were incredibly simple, which is why they have stood the test of time, and why they work well in so many different genres of music still to this day. When designing analog bass synths with FM8, you may only touch a few parameters in the entire process. This may make you feel like you are missing something, or even not using the synth to its fullest potential. But the resulting sound is really all that matters. And if you are after a fat, chunky, tear-through-a-mix kind of analog bass, then this quick lesson is for you!
As you can see in the image below, the routing in the FM Matrix is quite minimal. With only one main Carrier, and one main Modulator, it comes down to just the right amount of feedback and volume, in the right places, to get the thick grittiness we want without having to sacrifice musicality in our analog bass synth. But what really gives this sound a nice boost is routing it through the Noise/Saturator unit (Operator X).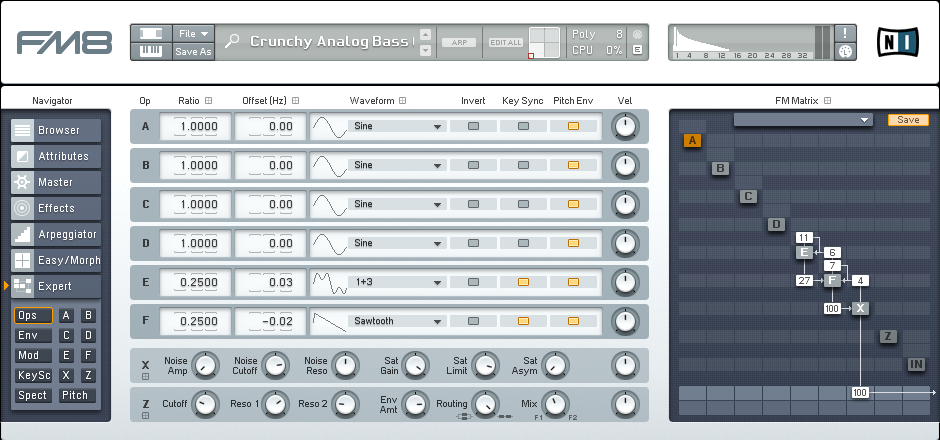 Here on the Master window the total number of Unison Voices is increased to three, and the synth is set to run in Monophonic mode. These voices are spread out a bit via the Detune and Pan parameters, while just a touch of Analog Quality is imparted for added character.

The last step in the process is to finish shaping this analog bass synth by shaving off a bit of low end and, while boosting some highs, with a Shelving EQ unit on the Effects window.
Here is a quick audio sample of this analog bass synth in action, No processing of any kind has been applied outside of FM8.
[audio:https://www.fm8tutorials.com/wp-content/uploads/2013/07/Crunchy-Analog-Bass-OHMLAB.mp3|titles=Crunchy Analog Bass OHMLAB]
Cheers,
OhmLab