Designing a deep chunky bass synth with the right balance of lows and highs so it cuts through a...
Designing an FM8 Chunky Bass Synth
»

»
Designing a deep chunky bass synth with the right balance of lows and highs so it cuts through a mix easily is a challenge for some people. This helpful tutorial shows how to make an FM8 chunky bass synth in just a few easy steps!
When it comes to this type of sound design, FM8 is a breeze to work with. We will be walking through the necessary steps to make a super funky FM8 chunky bass that should work well in a good number of different music genres and is incredibly simple to customize for your own needs. It takes less than five minutes to make from scratch and there are plenty of points along the way that you can successfully deviate from the walkthrough and still capture a lot of the elements that make this bass stand out in a mix. In fact, you can even use the Talk Wah effect (which most people really do not seem to care for) and end up with some pretty cool stuff. It all depends on how much tweaking you want to do and how much time you want to spend getting it perfect.
This FM8 chunky bass starts out with setting up the operators on the FM Matrix. As you can see in the image below, all of the main operators are being used, though only two are routed to the main output strip. The others, Operators A-D, are being utilized as Modulators. Notice that all of the waveforms are Sawtooth, with the exception of Operator C. And all of the pitch ratio settings are in whole round numbers, so you can experiment with offsetting these if you are looking for some phasing or extra width.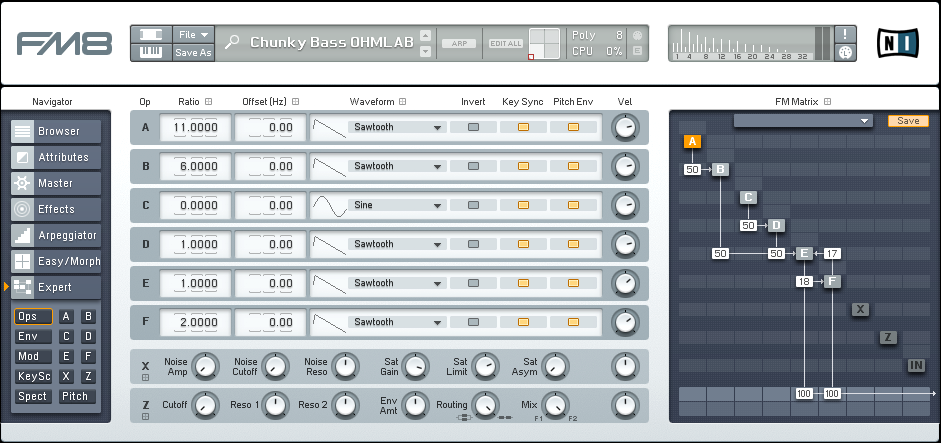 The envelopes are set up with different curves to provide more interest from the initial delivery and throughout the development of the sound over time. You can find some great alternative curves yourself through experimentation. Often times, it is a simple curve that works well with a sound like this FM8 chunky bass.

I chose to leave this as a Polyphonic synth, rather than opting for the Mono mode, as I feel there is more punch and drive available in this mode. The total number of Unison Voices is increased to three. The Detune and Pan features are used to add width and motion, but not too much. Some Analog and Digital Quality are added for character. And the entire synth is pitched down two octaves.

The last big step is to set up the EQ for this FM8 chunky bass. A Shelving EQ and a Peak EQ are both used to finish shaping the sound. You can also try using some other effects to provide extra edge, drive, distortion and yes, even Talk Wah. They all work well with this particular sound.
Below is a short audio sample of this FM8 chunky bass synth playing alongside some drums to give you an idea of how it can sound in a mix.
[audio:https://www.fm8tutorials.com/wp-content/uploads/2012/12/FM8-Chunky-Bass.mp3|titles=FM8 Chunky Bass]
Remember to shoot us a message before you leave if you have a tutorial request, or would like to share one of your own with the community.
Join The Conversation!
Want to ask a question about this tutorial or perhaps you have something to add to it? Click through to our forum post about this tutorial and join the conversation!
Thanks for stopping by!
Cheers,
OhmLab