Driving cinematic tech synths have taken on a very large role in some of Hollywood's...
Creating a Driving Cinematic Tech Synth in FM8
»

»
Driving cinematic tech synths have taken on a very large role in some of Hollywood's biggest productions in recent years, and this quick lesson shares one way you can make your own!
It takes just the right blend of edginess and hi-tech character for a synth to work well in a high-end film production. Supporting the visuals on screen while delivering hard hitting riffs can be a challenge, much like programming the right synth for an intense electronic banger. This particular cinematic tech synth has all the qualities to make it work in both worlds. And with a small amount of tweaking, you can easily make this sound your own. So once you have successfully recreated this sound, you should try experimenting with the parameters found on the Easy/Morph window within FM8, as this is probably the fastest and easiest way to find new versions of this synth.
This sound starts out with setting up the FM Matrix, where all of the routing happens. As you can see each of the main Operators are acting as Modulators for the single Carrier, Operator F, which is routed into the Filter (Operator Z). Operator Z is routed into the Noise/Saturator unit (Operator X), which is in turn routed right back into Operator Z. Each of the modulators has a fair amount of feedback and modulation occurring amongst themselves, which provides us with the grittiness and edginess needed to make this cinematic tech synth.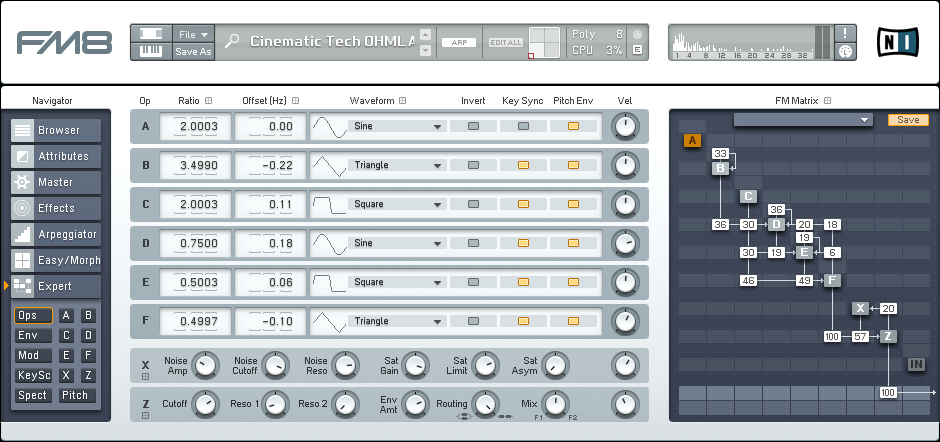 Below are the settings for both Operator X and Z.


Each of the main operator envelopes are tweaked slightly, extending the release parameter a bit to avoid unwanted clicks.

Next, the Master window is set up. Here our cinematic tech synth has the total number of unison voices increased to five. The voices are then spread out via the Detune and Pan features. And Analog and Digital Quality are both added for more character.

These next two images share everything that was set up on the Effects window to really bring this cinematic tech synth to life. The Overdrive unit adds some impact, while the EQ units help to finish shaping the sound. The Phaser is used to add an underlying layer of movement. The Reverb provides more space for the sound to develop and move around in. The PsycheDelay and Chorus/Delay effects provide more depth and really extend the sound quite a bit.


The last step is to simply set this cinematic tech synth in motion with the Arpeggiator tool. This allows you to create a sequence by simply sustaining one note.

Below is a small audio sample of this cinematic tech synth in action. No processing of any kind has been applied outside of FM8.
[audio:https://www.fm8tutorials.com/wp-content/uploads/2013/05/Cinematic-Tech-Synth.mp3|titles=Cinematic Tech Synth]