Electro has seen a lot of different faces in recent years, but this tutorial takes you back to...
Creating a Classic Electro Funk Bass Synth with FM8
»

»
Electro has seen a lot of different faces in recent years, but this tutorial takes you back to the earlier years when electro funk bass was still heavily influenced by disco and the Roland 808.
Electro music has taken on more forms than most other modern forms of music over the years, or at least a wider range of musical stylings. When electro music first started it was in the realm of funk and boogie, with a huge influence from disco music. Once the Roland 808 was on the scene, the music began to evolve a little differently than it had before. It put immediate creative power into the hands of whoever held it. And if you were around in those days, you know exactly how eager everyone was to test the boundaries of whatever 'modern' music was going to be in the 1980's. This is where the electro funk bass comes in. It too, took many forms. But there were common traits, like edginess and character. It was a pretty big departure from the typical electric bass guitar and people found it quite hard to resist. So it is no wonder it was so quick to replace disco for a lot of people in the 80's.
This particular electro funk bass is a modern twist on a classic sound. Though it is far from what a lot of people refer to electro bass nowadays, which seems to have been hijacked by the dubstep movement in a way, it can be used in a similar fashion. It is quite flexible and easily customized for your own needs by simply swapping out some waveforms. It all starts in the FM Matrix, where Operator F is our main Carrier and the rest of the Operators are acting as Modulators. Operator F is also routed through the Filter (Operator Z), and both are routed to the main output strip.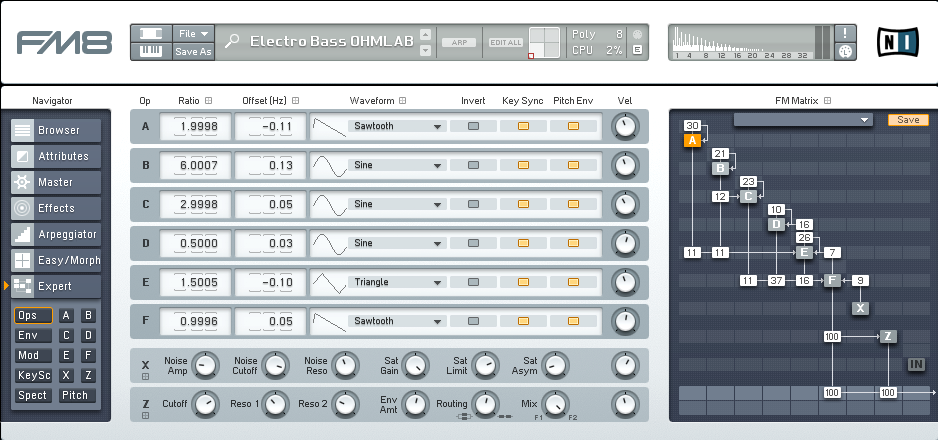 The total number of Unison Voices is increased to two on the Master window, which are spread out via the Detune and Pan features. Some Analog and Digital Quality are added for character, and at this point you can really start to feel this electro funk bass coming together.

The last major step of the process is to set up the Effects window. The Overdrive and Tube Amp units are used to provide more grite and drive, while the Shelving EQ and Peak EQ units are used to finish shaping this electro funk bass. The Reverb provides our sounds with more space to move around in, while the Chorus/Delay effect is used to thicken up the sound and add a bit more depth.
Below is a small sample of this electro funk bass in action. As you can hear, it is not being used in the tradition sense. I chose to use longer sustained notes to showoff how it develops over time, but you can obviously use a nice blend of short choppy progressions with a funky appeal. And if you are after a more classic 80's sound, you can swap out the main sawtooth waveform for a square. You lose a bit of the edginess, but you get the more subtle character that was popular back then. This sound really comes to life after a little processing, so spend some time experimenting with different types of saturation and compression to find what works best for you!
[audio:https://www.fm8tutorials.com/wp-content/uploads/2013/06/Electro-Bass-by-OhmLab.mp3|titles=Electro Bass by OhmLab]