This quick and easy tutorial will share how to design your own basic Absynth deep chord pad...
Designing a Basic Absynth Deep Chord Pad Synth
»

»
This quick and easy tutorial will share how to design your own basic Absynth deep chord pad synth that can be customized to fit just about any ambient project.
There are many ways to use a sound like this one. But this particular Absynth deep chord pad is one that can be used as a template for future sounds, as well as a layering element. It's hushed and somewhat muted appeal is ideal for musical projects that feature found sounds and minimal sounds alike. Without taking anything away from the lead elements in a mix, it has the capability to not just support, but enhance an entire mix simple by being present. Of course, you can tweak any of the settings to make it fit your work better, but you should be able to take it one step further and really make this osund your won by experimenting with different waves forms and introducing some modulation for added interest and character.
This Absynth deep chord pad starts out on the Patch window, where all three oscillator modules are put to use. A Sine wave is loaded into all three, running in Double mode. Both Oscillator B and C have their pitch parameters changed via the Transpose feature. All three sounds are then routed through their own Cloud fliters. Oscillator A is taken down one full octave via the Transpose feature in the Cloud Filter. The synth is then set to run in Stereo mode, rather than the default Mono mode. The volume level and pan position for each oscillator is set before moving on tio the next step. Now the sounds pass through a Frequency Shifter together on the Master output strip.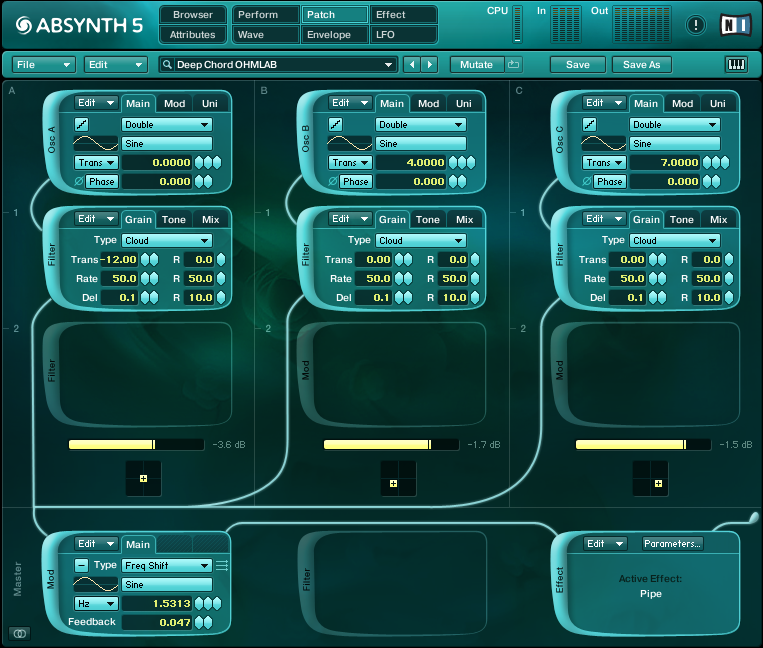 Each of the main oscillator envelopes are set up with an identical curve to ensure a consistent and even delivery of sound. This is one area where it will be very easy for you to expand upon this simple Absynth deep chord pad, as it is basically a clean slate to start with!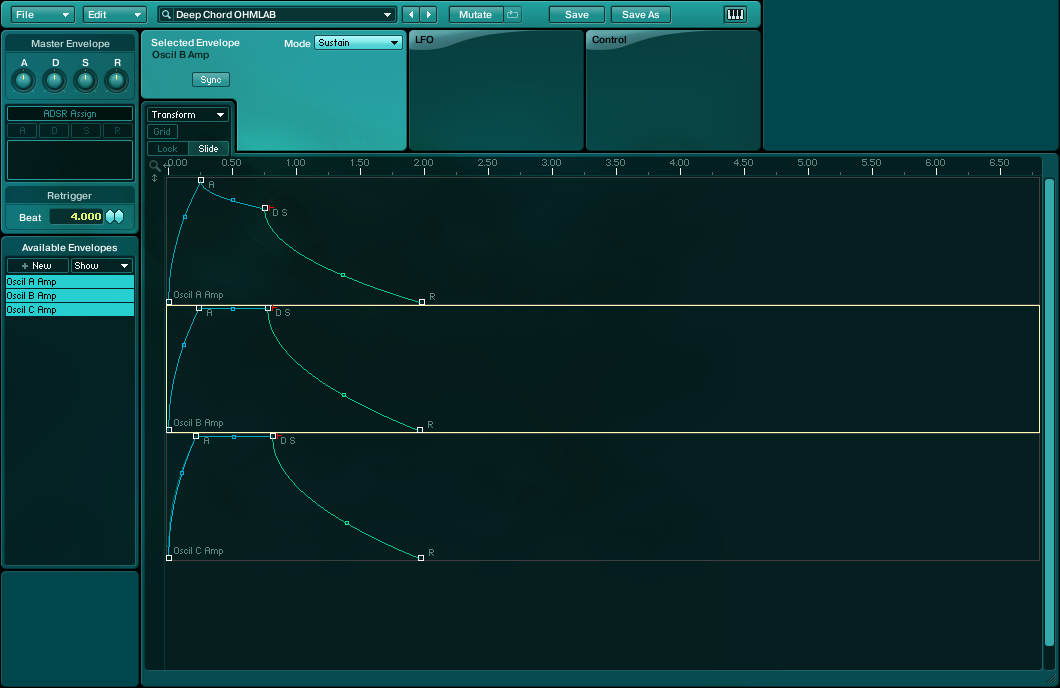 The last major step left in designing this basic Absynth deep chord pad is to set up the Pipe Effect. This effect will not only spread this pad even further for us, but it is also integral in keeping the overall sound from becoming overpowering.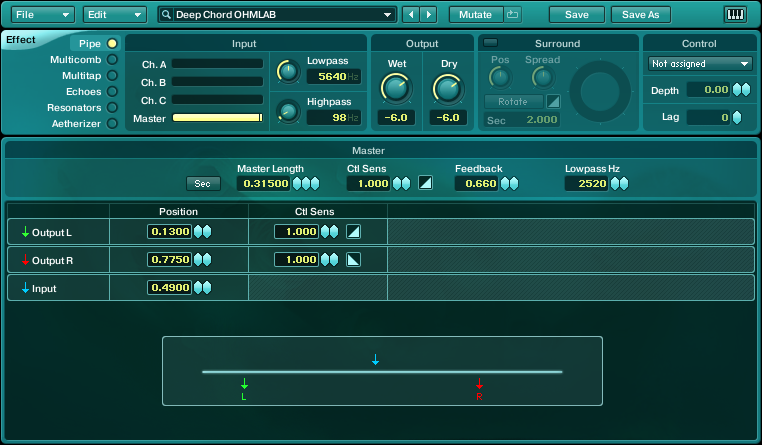 Each of the settings throughout this sound design lesson were kept intentionally simple so you can easily recreate the sound and then go back and begin having some fun tweaking things to your liking. Don't forget about the Morph Waves as an option for the waveforms used to create the core sound for this instrument, you may find some rather brilliant alternatives in there. You can also create your own custom waveforms. Or try Morphing the sound as it is now and see what you come up with. And, of course, the LFO and Envelope windows will also provide a never ending supply of options.
Below is a small audio sample of our Absynth deep chord pad in action. No processing of any kind has been added outside of Absynth, so you should be able to recreate this instrument quite easily with the same results.
[audio:https://www.absynthtutorials.com/wp-content/uploads/2013/04/Absynth-Deep-Chord-Pad-by-OhmLab.mp3|titles=Absynth Deep Chord Pad by OhmLab]
Cheers,
OhmLab
Have A Question Or Comment About This Tutorial?
Want to ask a question about this tutorial or perhaps you have something to add ?
Click through to our forum post about this tutorial and join the conversation!