If you've ever wanted to modulate a filter so that it swept to the beat of your DAW, you...
Sweep a Filter To The Beat With a Flexible Envelope
»

»
If you've ever wanted to modulate a filter so that it swept to the beat of your DAW, you had to draw in automation by hand. Kontakt has an envelope type that lets create a custom envelope that represents level and time. In today's tutorial, I will show you how you can Sweep a Filter To The Beat With a Flexible Envelope.
The Flexible Envelope is a powerful envelope type that allows you to create arbitrary modulation shapes by defining up to 32 breakpoints, each at a defined level and point in time.
Today i will be modulating the Cutoff Frequency of the 3×2 Versatile Filter.
Let's start by adding your Filter. In this case it's the 3×2 Versatile.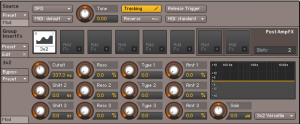 Next configure your Filter so that it works with your sound. I'm using a drum loops and i want a lot of resonance, so i'll configure the 3×2 Versatile into a self-oscillating low-pass filter.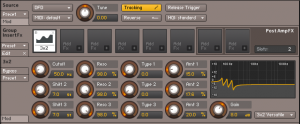 Next I'll a Modulation Source to the Modulation Router by right-clicking on the Cutoff knob and selecting Envelopes>Flexible Envelope.

Click the Quick Jump button to jump down to the settings for the Flexible Envelope. If you play your Instrument you an already start to hear the Flexible Envelope at work. Enable Tempo Sync.

Add Breakpoints by right-clicking and move existing breakpoints by left-clicking and dragging. Change the curve of the lines between breakpoints by dragging the circle. Keep doing this until you have Envelope that looks similar to this:

If you are using the 3×2 Versatile filter like i am, you'll notice that resonance is a tad bit too high. We can fix this by increase the Cutoff and dialing back the Modulation Intensity to about 70%.

I like where the sound is right now, but i want to show you one other thing. The first 8 breakpoints of a flexible envelope are very special. Their positions in time and their levels can be modulated. Let's modulate the first breakpoints time and position with a sine wave. Show the Modulation Router, click add modulator and click constant.
Click the Modulation Shaper, to open the shaper table. And click active.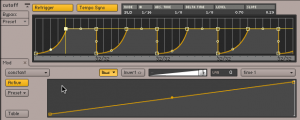 You add breakpoints to the table just like the flexible envelopes. In this case i opted for a factory preset, Tour de Kontakt.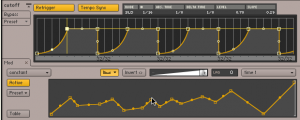 The Flexible Envelope is extremely powerful and one of the many tools you will use when it comes to Sound Design. We covered the Tempo Sync mode, but it can also be used like a standard envelope that is de-coupled from the tempo of your host or Master Tempo. Also the status bar gives you very important information about your breakpoints. Be sure to check out the Kontakt Application Reference to understand what each of these fields mean.
Until next time…now go make some music.
Have A Question Or Comment About This Tutorial?
Want to ask a question about this tutorial or perhaps you have something to add?
Click through to our forum post about this tutorial and join the conversation!