This week, I'm taking a break from writing tutorials about Reaktor to highlight the work of...
Free Reaktor Ensembles - Gems from Around the Web
»

»
This week, I'm taking a break from writing tutorials about Reaktor to highlight the work of some Reaktor builders around the web, and to link you to some great free Reaktor ensembles. One of the goals of this website is to make building in Reaktor easier, another is to make it more rewarding for those who do put in the time and effort, in the hopes of fostering a more active and vibrant community.
With that in mind, if you like any of the work featured in this article, please leave a comment or consider donating to the creator – it really does make the building process much more fulfilling to receive feedback on your work!
RADIAN SOUND LABS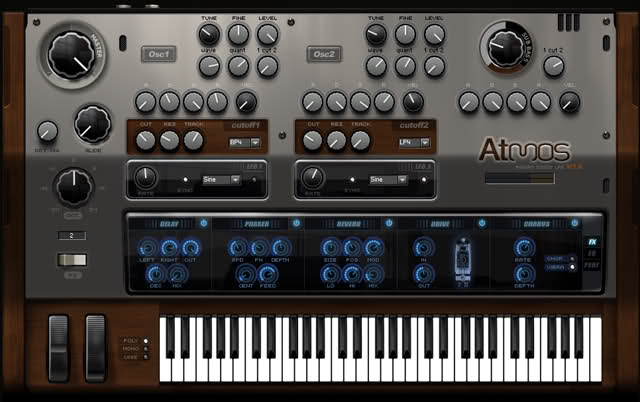 These are several years old, but they still pack a punch. I am surprised that they have not gotten more recognition, as they feature some pretty great presets and a very intuitive and well designed panel interface. There are six synth ensembles, currently available for free at the bottom of this page, using a 'Pay with a tweet' system for those of you with Twitter accounts.
MEGA-BASS 2020

From Icebreaker Audio, this ensemble is donationware. Built for live performance, with built-in integration with the Novation Launchpad. Available for download here, you can check out the videos and sound sample for more information. There are other free and paid Reaktor ensembles available on the site as well.
BRONTO SCORPIO DRONEBOX

This is one of those crazy noisemaking ensembles. I have no idea whatsoever what most of the knobs do. In that sense, it's reminiscent of some of the more experimental Reaktor ensembles, such as Skrewell in the Factory Library. Check out a video sample here, and available for download here.
DRON-E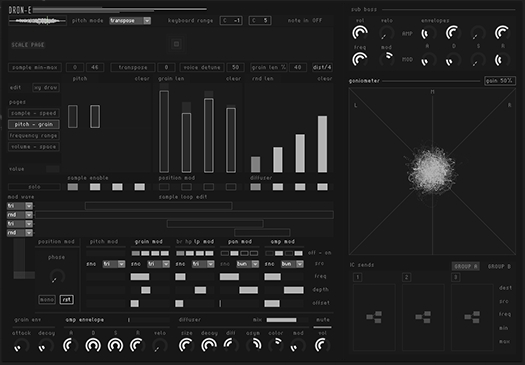 Antonio Blanca's masterpiece ensemble, DRON-E, is newly available at Twisted Tools, as Antonio joins the Twisted team. This ensemble  creates fantastic morphing soundscapes, and can be found for free here. Both Antonio and the existing team at Twisted Tools have an immense amount of talent, so I'm excited to see what they'll cook up together. In the meantime, enjoy this free offering.
BOSCOMAC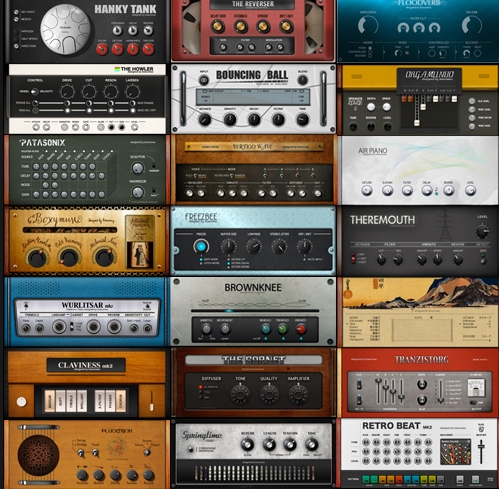 Then there are the fabulous Boscomac ensembles, made by an enigmatic builder in France. Featuring wonderfully designed GUIs, and a prolific release schedule, this work is impressive to say the least. We have an interview planned with this builder, as soon as I get it together to make it happen, so I hope to give you more details on these soon. For now, they can be downloaded here.
HYROGLYPHICUS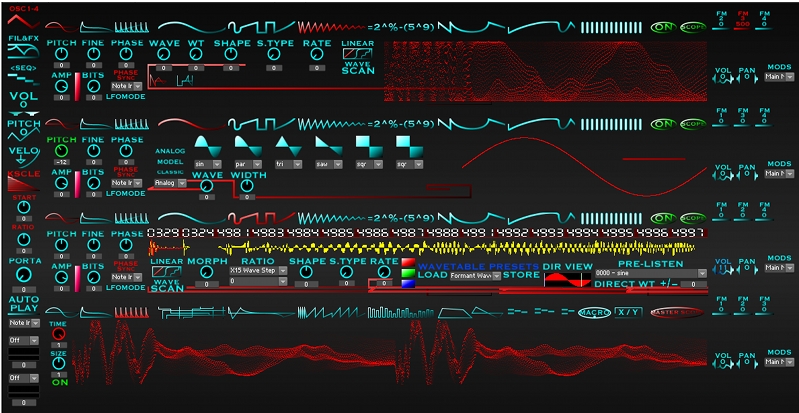 I wanted to make this post mostly about ensembles that can be found outside the Reaktor User Library, but I also want to spread the word about this new synth, which designer Michael O'Hagan has been working on for a very long time. Packed full of features and modules, this is an impressive build indeed.
REAKTOR TIPS FRAME 3
Created by Peter Dines, a talented builder who mainly focuses on Sample-based ensembles. ReaktorTips.com has some great tutorials available, especially in the realm of event processing. Better yet, there is a tutorial on this very ensemble, so you can check out how it works if you're interested.  Download here, and be sure to check out the rest of the site too!
MODULATOR
My own work. You can download most of my free Reaktor work here. I hope you enjoy it!
If you feel like I've missed anything, please let me know in the comments and I'll try to include in the next roundup!