There is a nasty rumor floating around out there. People seem to think that you cannot browse...
How to Browse 3rd Party Presets and Samples in Maschine 2
»

»
There is a nasty rumor floating around out there. People seem to think that you cannot browse your own presets and samples in Maschine 2. This quick tutorial shows you how to do it in a matter of seconds!
It is easy to understand where this misunderstanding started. It does make a degree of sense that if you have your own presets and other 3rd part presets added to your Massive library, for instance, that they would also show up in Maschine 2 when you go to browse for them. But alas, these are two separate programs and we need to actually tell Maschine 2 where to find the sounds you want to add to its library so you can easily browse and use them whenever you like.
It should also be noted that the Maschine expansion packs that you purchase from Native Instruments directly will show up in the NI factory library area.
First, you need to open up the Preferences window. You can do so by following the image below.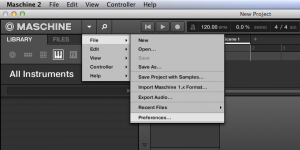 Now, click on the Library tab.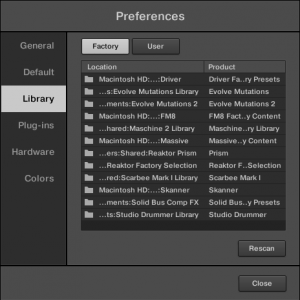 Then, click on the User button and click on the Add button at the bottom of this window.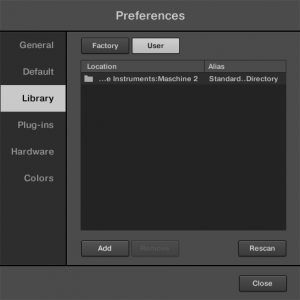 You will then be presented with a file browser window so you can navigate to and select the desired folder(s) of sounds. These can be both synth presets and audio samples alike. Maschine 2 does all the sorting work for you, so there can be folders insider of folders and even file types that have nothing to do with music production, like text files. Maschine will handle all of this. Once you have selected your folder(s), click the Choose button.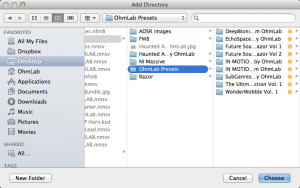 Now, click on the Rescan button. You will then see an Import Progress bar. This may happen incredibly fast or take a few moments depending upon the speed of your computer and the number of files being imported into the Maschine 2 library.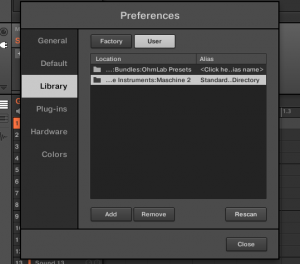 Now, if you switch from the NI factory library to Your library in Maschine 2 and select either the Instruments or Samples option, you should see your sounds listed in alphabetical order.
The entire process only takes a matter of seconds and you should have your entire collection of presets and samples imported into Maschine 2 after just a few clicks of your mouse!
Cheers,
OhmLab