NI Kontakt's Group Start Options is a powerful function that gives you control over which...
The Power of Cycle Random in NI Kontakt
»

»
NI Kontakt's Group Start Options is a powerful function that gives you control over which Groups will play when you hit a key on your keyboard. Here's a quick overview of how to use Cycle Random, one of the many Group Start Options in Kontakt.
By default, each Zone in a Group will always play its assigned Sample when a note is received that matches its keyboard and velocity range. When you need more control, you use the Group Start Options.
The Group Start Options lets you define conditions that have to be met before a Group will become active and play any sound.
Let's start by making sure all Zones are on the same key. Do this by moving them all to the same key. Use your mouse because if you use the status bar to change their Zone Range, the Root won't move with the Zone.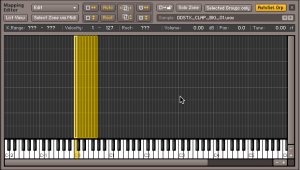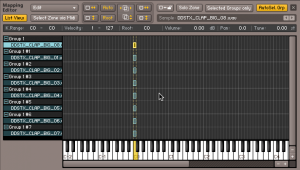 Tip: Use the List View to see Zones in an alternate view. This allows you to see overlapped Zones much better than the standard view.
Next move all the samples you want to trigger randomly to their own group by selecting all the Zones Edit>Select All Zones

and moving all Zones to their own group by clicking Edit>Move each Zone to its own group (clone).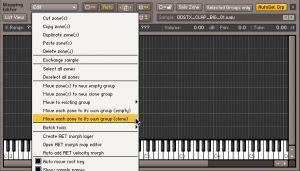 Open the Group Editor by clicking on the Group Editor button and make sure Edit All Groups is enabled.

Click the Group Start Options button.

Each row has a drop-down menu on the left; to add a condition to the list, select it from this menu first. To the right of the menu, Kontakt will then show the parameters that belong to that condition along with labels that say what they are for, as well as an operator drop-down menu that logically combines the current entry with the next one.
Choose Cycle Random from the drop-down menu.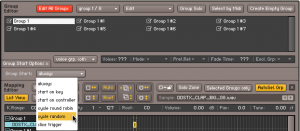 All Groups that have the Cycle Random condition in their Group Start Options, and contain Zones that match the key and velocity range of an incoming note, will be cycled in randomly on each similar note.
Play the key repeatedly and watch how each Group is triggered randomly with each successive midi note.
Group Start Options is the simplest way to add realism and control over what samples are triggered when you play a note. Combined with multiple conditions, you can create some very complex combinations. Keep in mind that Group Start Options are at the Group level, but the Instrument only keeps track of one set of Random or Round Robin counters. This means that your instrument can only have one random or round robin grouping of sounds. To have more than one in the same Instrument will require the use of Scripts. Not to worry, we'll get to that another day.
Until next time…now go make some music.