With FM synthesis, a supersaw can be made with a single operator and attention to detail. This...
Save Time with this One Minute FM8 Supersaw Technique
»

»
With FM synthesis, a supersaw can be made with a single operator and attention to detail. This quick FM8 supersaw technique will show you how to make one in less than a minute, and explain why it works along the way!
So if you only need to use one operator to make a supersaw with FM synthesis, why would you ever use more? The answer is simple. Timing! Sometimes, time is of the essence and you need to make a sound happen as quickly as possible. Or perhaps you are not the greatest sound designer but you still want to craft your own sounds, rather than depend upon someone else's programming. This easy FM8 supersaw technique will only take a minute to replicate every time, once you get the basic idea down. I decided to give this new approach a shot after trying to explain the difference between subtractive synthesis and frequency modulation synthesis, while using the classic supersaw synth as a shared example. It dawned on my that if you spread out the burden across multiple operators, you wouldn't need to spend as much time fine-tuning things. Here's how you do it.
Below, you can see that I have used all of the main operators and the noise/saturator unit (Operator X) for added air. The pitch values of each operator were dialed in completely at random, with the ide of not getting extreme with any of them. The feedback on each operator is also randomly applied. Notice that Operator F is key synced, while the others are not. This is done to help our FM8 supersaw cut through easily. The reason we have so many operators in play is to build up harmonic presence without having to try to make it happen.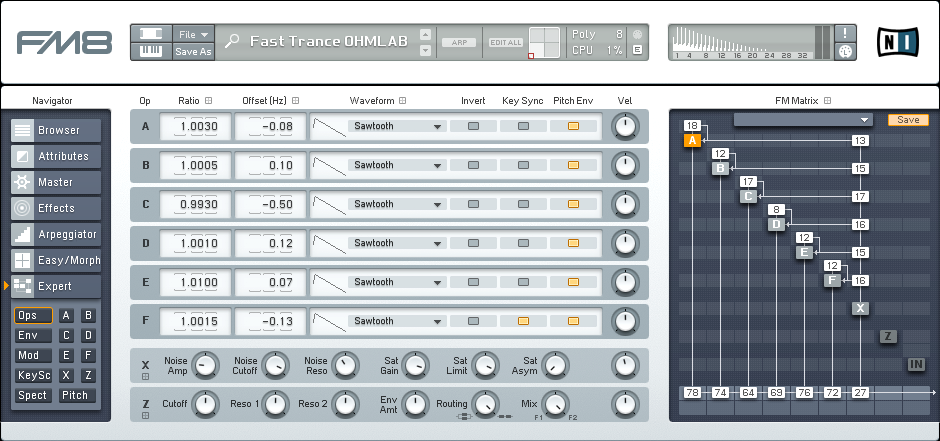 On the Master window, the total number of Unison Voices has been increased to seven, but this FM8 supersaw could easily handle a larger number. The voices are then spread out using the Detune and Pan parameters. Added character are imparted via the Analog and Digital Quality parameters. The detuning and stereo spread are what make the biggest impact upon the overall size and impact of the synth, while the quality settings are largely about detail.

The Effects window is the last major stop in the process with this simple FM8 supersaw technique. The sound is shaped a bit with EQ units and some Reverb is sued to provide more space for it to move around in. (If you experience any pops or clicks in the sound you make, you can extend the release parameter just a touch across all operator envelops.)

Below is a quick audio sample of this synth in action. It really is that quick and easy to make a bright, sharp and clear FM8 supersaw lead using this method. After doing it a couple times, you should be able to accomplish it in under a minute every time!
[audio:https://www.fm8tutorials.com/wp-content/uploads/2013/07/One-Minute-Supersaw.mp3|titles=One Minute FM8 Supersaw]
Cheers,
OhmLab