This is a fun little tutorial on how to make a modern version of one of the most iconic sounds...
How to Make a Simple FM8 Rhodes Organ
»

»
This is a fun little tutorial on how to make a modern version of one of the most iconic sounds in the blues and jazz world, a Rhodes organ!
This FM8 Rhodes organ is one of those instruments that just sounds great and it's hard not to smile and tapp your feet when you hear it grooving with a band behind it. Whether you produce jazz, blues, rock or pop, this sweet version of the old classic is bound to be used again and again in your projects over the years. The actual structure and routing of the sound is pretty simple, while the effects that bring it all to life require a bit of finesse and attention to detail. This instrument is quite easy to customize, once you become familiar with the various settings and the thinking behind them. Let's take a look at how it's made.
Starting out in the FM Matrix, you can see that this is a purely Sine wave based FM8 Rhodes organ. If you are working with different FM synths, this may be an easy one to translate over due to the low level of complexity of actual synthesis. The key to getting the routing right is balance. And the process of finding the right pitch and modulation values is a bit time consuming. Luckily, the image below shows you how to get it done in less than a minute!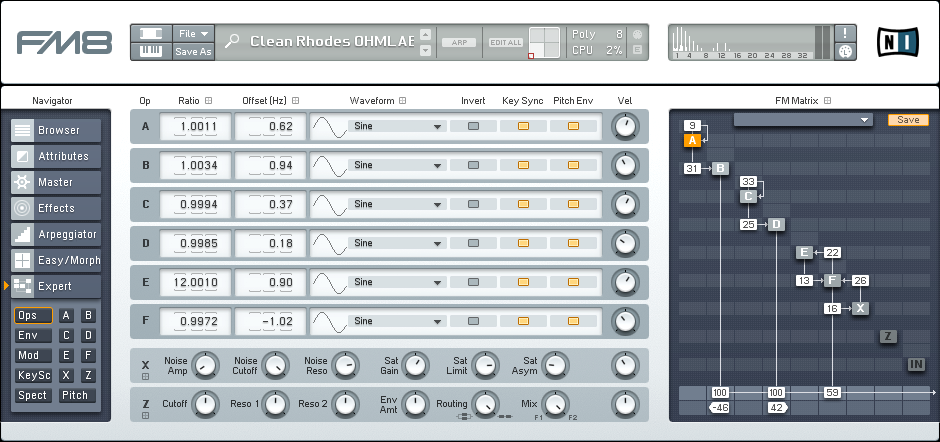 The operator envelopes of this FM8 Rhodes organ are all kept very basic and identical, through the use of the Link feature. The release is simply extended a small amount to get rid of any clicking and allow for the instrument to ring out a bit.

The Master window is where the total number of voices is increased to four and a small amount of Detuning and Analog Quality are added. The Pan feature is also used to bring more stereo spread to our FM8 Rhodes organ.

Finally, the Effects window is set up. This is where the FM8 Rhodes organ really comes to life! First, a Cabinet unit is used to help emulate the type of body the original Rhodes organ had. A Shelving EQ is ised to add a little boost to the low end of the sound, while a Peak EQ is used to attenuate a couple of problematic spots in the frequency range. This will help it stay clean across a wider range of notes and octaves, as you will hear in the final audio example below. The Tremelo and Chorus/Delay effects are used to add some movement and depth to the sound. And the Reverb is there to give the organ more space to breath.
Below is a small audio sample of our FM8 Rhodes organ in action alongside some drums to give you an idea of how it work in a mix.
[audio:https://www.fm8tutorials.com/wp-content/uploads/2013/02/FM8-Rhodes-Organ.mp3|titles=FM8 Rhodes Organ]
Join The Conversation!
Want to ask a question about this tutorial or perhaps you have something to add to it? Click through to our forum post about this tutorial and join the conversation!
Thanks for stopping by!
Cheers,
OhmLab