We get a lot of requests for tips on heavy formant style synths, especially FM8 glitch-hop bass...
Give Your FM8 Glitch-Hop Bass Synths More Texture and Definition
»

»
We get a lot of requests for tips on heavy formant style synths, especially FM8 glitch-hop bass synth. This quick tutorial shares a few ideas that can help you achieve more character and definition in your patches.
When it comes to designing sounds for genres like dubstep, glitch-hop, etc there are several approaches you can take, especially with the wide range of bass synths used in these types of music. Making your own FM8 glitch-hop bass synths can be a really fun learning experience and can also provide you with truly unique sounds that people won't find elsewhere. The current trend in this genre is full of heavy and dirty, yet crisp and clear bass sounds that are often times a cool mystery to the listener. But once you really dive into the sound design that is responsible for these sounds you begin to unravel the mystery and see a pattern emerge. Often times, You can begin with the same basic idea and simply experiment a bit to dial in new sounds from there.
This particular FM8 glitch-hop bass synth starts out in the FM Matrix, with one main Carrier and several Modulators. The saturator unit in Operator X is also used to increase the punch and presence of the synth overall. With this type of sound design, the waveforms you choose are just as important as what you do with them in the routing matrix. Feedback is a necessary component for the high frequency character. (Operator A is providing simple sub bass support. You can turn this off and add your own custom sub bass in at a later time.)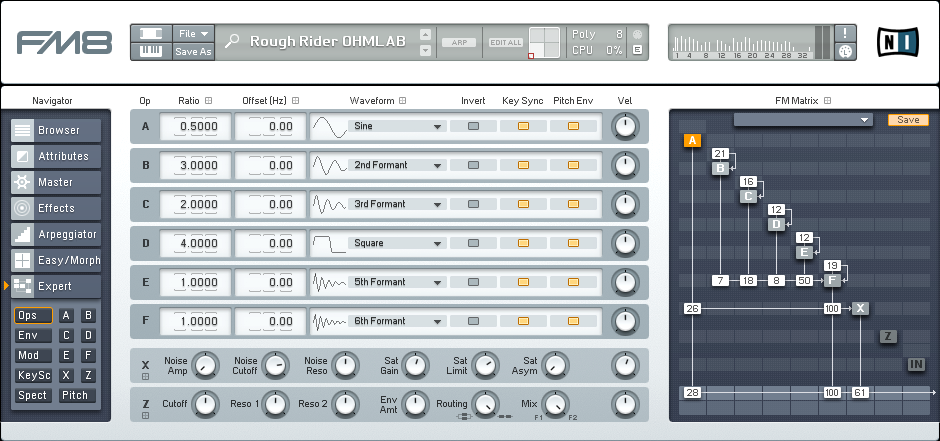 Pro Tip: High frequency presence, brought about through feedback, can bring more definition and character to an FM8 glitch-hop bass synth instantly.
The next step is to set up the Master window, where the total number of unison voices is increased to four and spread out via the Pan parameter. Don't make the synth too wide because it's a bass synth and really should stay in the middle of the stereo field. The overall pitch of the synth is also dropped two full octaves.
The Envelope window is next and as you can see, it is a very simple task for a sound like this.

Pro Tip: Try experimenting with different envelope curves on your modulators to create more dynamic and morphing FM8 glitch-hop synths!
Now to set up the Effects window. Here the Shelf and Peak EQ units are used primarily to boost the high frequencies to bring out the definition and crispy crunch of the synth. Usually, an FM8 glitch-hop bass is fairly basic in the synth itself, and then you apply effects, automation and other processing to make it come to life and fit your music. This type of synth is also usually used in combination with at least one other main bass synth in glitch-hop music, as well as some kind of sub bass support to really fatten it up. It is bass music after all!

Usually, we have a short audio sample for you to listen to. But since we only made this one sound in this tutorial, and not the rest of the bass synths that would complete the riffs you normally hear in a glitch-hop track, we are including a preset download instead. This way you can keep it on hand for future reference and build up other sounds around it.
So how will you go about using it? Try adding a phaser for subtle morphing motion. EQ automation is probably something you will want to spend a lot of time on, if you are producing glitch-hop. The only way to gain total control over how a synth like this changes over time is to get in there and program all the changes yourself. It may be a painstaking process at times, but it is definitely worth it in the end! Resampling an FM8 glitch-hop bass like this one is also another great way to take this sound even further. Basically the sky is the limit. Just stay away from making it too wide, using too much modulation, bringing in too much low end or anything else that can potentially negatively impact the clarity and definition of your sound.
Cheers,
OhmLab