In this tutorial learn how to create a funky brass synth in FM8 that sounds a lot like a DX7...
Get Funky With A DX7 Style Brass Synth In FM8
»

»
In this tutorial learn how to create a funky brass synth in FM8 that sounds a lot like a DX7 patch. Who says software synths can't sound vintage?
[audio:https://www.fm8tutorials.com/wp-content/uploads/2013/12/Funky-Brass.mp3]
I know that Superstition has a Clav sound in it and not a brass synth, but this vintage brass synth in FM8 made me want to play something funky!
One of my favorite things about FM8 is that it can create some really cool acoustic styled instruments like brass, electric basses, keys etc. Lets dive into to creating this vintage brass synth in FM8.
First click on the Master tab. For polyphony choose 8 for the number of voices and in the Unison section have only 1 voice and make sure the Dynamic tab is highlighted. Also, add a good amount of portamento to your sound. Anywhere from 50-70 will sound good. Finally, drag the Analog slider up to 20.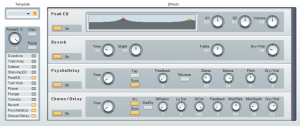 Second, lets get the effects out of the way. You can leave the sound dry if you choose and process third party but here is what I had on it.
Moving right along to the heart of the sound, the operators and FM Matrix lets start by getting the waveforms selected in the Operators tab.
You will notice that most of Operators are using Sine waves. Operator D and E are using the 1+4 waveform and the TX Wave 3. Note that the Key Sync is selected for every Operator. Follow the picture below to get the ratios and the Offset correct.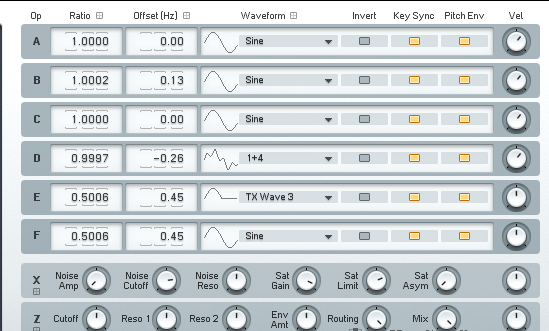 It's rare that I end using all of the Operators in a sound, but this brass synth in FM8 is an exception. Operators A, B, C, D, E and F are all active and Operator A is modulating A, B, C and D to add some thickness to the sound. Make sure you modulate Operator E into F at 50.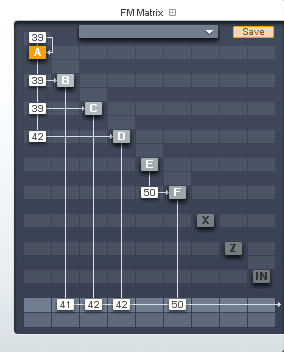 The most complex part of this sound are the envelopes. Not because they are really intricate shapes but because each envelope is different. The easiest way to show how they are done is with pictures for each one. These envelopes are key in achieving a more vintage sound because having different attack and decay times help make the sound less sterile.
Envelope D is the same as Envelope C except with a slightly longer decay time. The last thing we have to do to create this brass synth in FM8 is dial in the right settings on the Mod tab.  There is a slight LFO set up and you can see the settings below.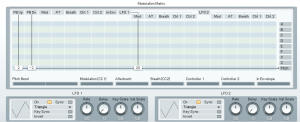 That's pretty much it. If you have any questions or comments let me know below!